12
Aug
2006
Today I'm abandoned. No friends around. They all left. Nobody loves me.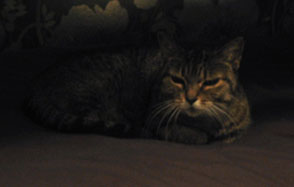 Except my cat. One of my cats is sitting here on the bed behind me, loyal to the end. She loves me. At least it's not all bad.
And I came up with a category for here, Mae's Days. For just generally writing about stuff in my life. Like this. Writing to the abyss, I guess. After all, nobody cares enough to actually READ this. Heh.