30
Jun
2008
I got my hands on VMware Workstation 6.5 Beta 2 today. I've been using VMware for a while, mostly for running Windows programs on Linux. This new one, all I can say, "neat!"
Right from the start, the new installer was nice. Not a command-line thing needing enter hit a dozen times anymore. Once inside, I found it supports hardware 3D acceleration right in the settings now, something only very experimental in previous versions.
But my favourite feature is something they call "Unity"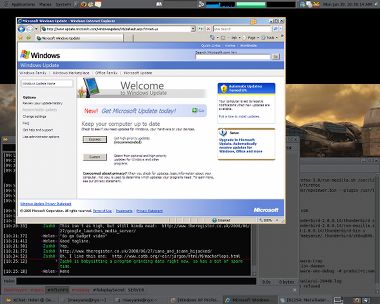 Full Screen Image
Yep, that's right. Internet Exploder running in Linux, looking just like it belongs there. No virtualizer window. Not that Internet Exploder is an app I'd actually WANT to run in Linux, but it shows you what it can do. And you aren't limited to just one virtual machine either, you can have several unified at once, each identified with its own colour.
Unfortunately being a beta it's forced to run in debug mode, which means it's HORRIBLY slow. But that'll be all better once it's released. Looking forward to it, VMware guys!